NEW ORLEANS, La. (NOLA WEEKEND) - Right after Carnival, New Orleans and its surrounding areas gear up for a busy spring festival season.
Music lovers can look forward to the return of the city's big music festivals, including French Quarter Fest and Jazz Fest. Foodies can find festivals dedicated to crawfish, barbecue, gumbo, strawberries and other Louisiana delicacies.
We found more than 30 festivals and major events filling the lineup kicking off this March.
Here's your guide to New Orleans spring festivals to mark on your calendar. Check back for updates as we get them.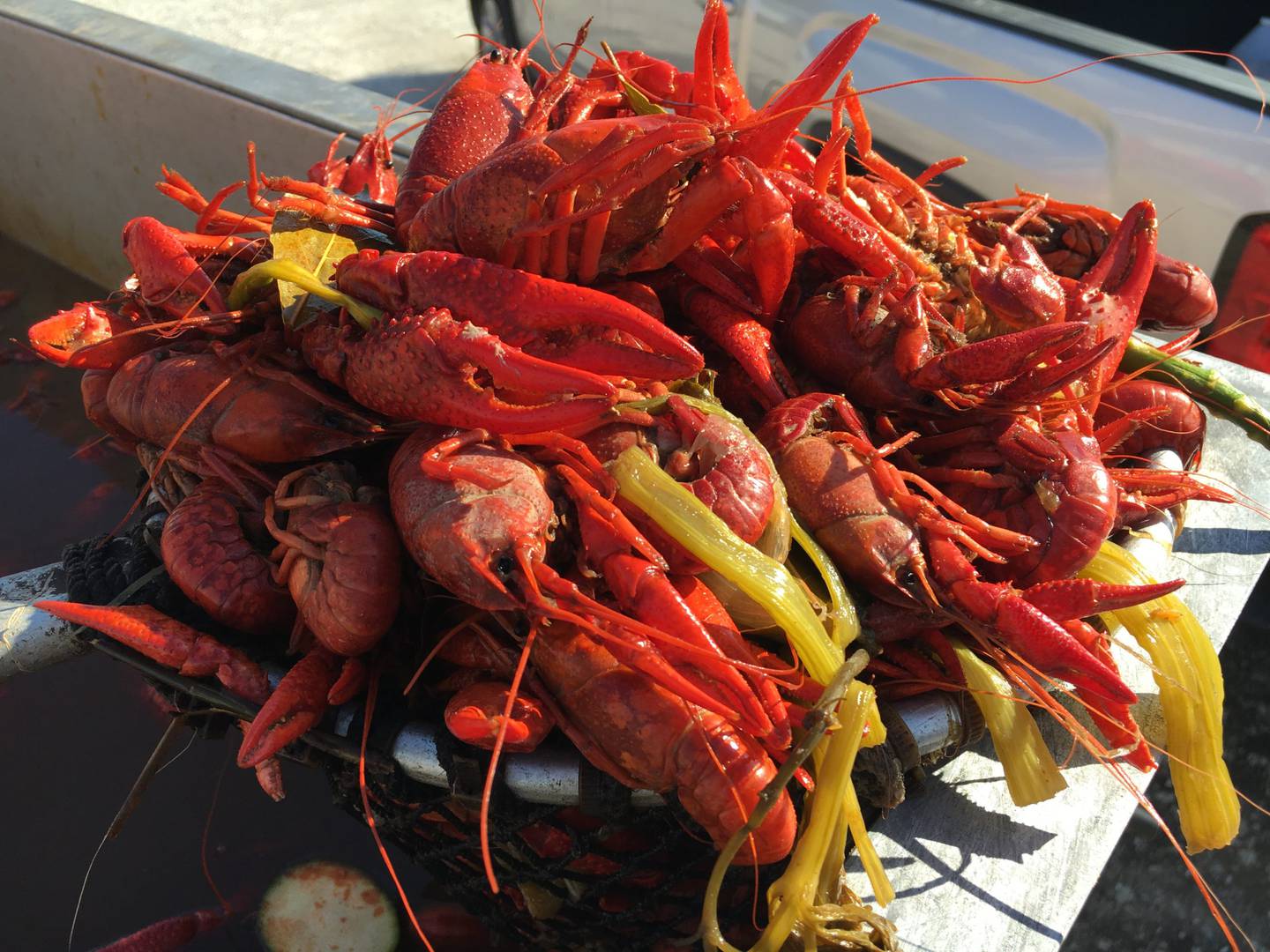 ---
March 2023
Danny Barker Banjo and Guitar Festival
March 7 - 12 | New Orleans Jazz Museum, Other Venues
The ninth annual festival presents events over a six-day run, offering a mix of live music performances, interviews and panel discussions at the New Orleans Jazz Museum from March 10 to March 12. Other events surrounding the festival include an all-star Banjo and Guitar Summit at Tipitina's and shows at Snug Harbor featuring Grammy-winning vocalist Catherine Russell and the Danny Barker Tribute Band, among others. Admission prices vary by event.
Find more details on the website.
--
New Orleans Book Festival
March 9 - 11 | Tulane University
The New Orleans Book Festival at Tulane University brings together leading authors to celebrate their works, along with readings, panel discussions, keynote speeches. This event provides an opportunity for outlets, authors and readers to interact with each other in one of the most vibrant and culturally diverse cities in the world.
Visit the website for the full author lineup and schedule.
--
New Orleans French Film Festival
March 9 - 13 | Prytania Theatre and Prytania Theatres at Canal Place
The New Orleans French Film Festival, one of the longest-running foreign language festivals in the country, will showcase contemporary and classic francophone cinema at the historic Prytania Theatre and Prytania Theatres at Canal Place. Now in its 26th year, the festival brings together 13 features alongside three short films, presented in French or Kouri-Vini (Louisiana Creole) with English subtitles, from Belgium, Canada, France, Germany, Greece, Italy, Switzerland, and the USA.
This year's highlights include director Antoine Barraud's "Madeleine Collins," a 2021 official selection at the 78th Venice Film Festival; 2022 #CreateLouisiana winner "Tambou" and "Revoir Paris," a thrilling drama from director Alice Winocour.
Part of the lineup will also stream on the festival's Virtual Cinema from March 9-19. Visit the website to see the full lineup, schedule and purchase festival passes.
--
Independence Sicilian Heritage Festival
March 10 - 12 | Highway 51, Independence, La.
The Independence Sicilian Heritage Festival will take place on Highway 51 in the center of town. Each festival day there is a full lineup of live music on the main stage and classic homemade Sicilian food will be available for purchase. Other traditional events include the spaghetti eating contest and meatball toss.
For more info, visit the website.
--
Birdfoot Festival
March 10 - 18 | Various venues
Birdfoot Festival, New Orleans' international chamber music festival, marks its 11th season with an immersive program exploring the "entwined relationship with the natural world," organizers said.
This year, the festival returns in-person for the first time in four years. An acclaimed group of international and local musicians and composers come together to collaborate and perform concerts and interactive events across New Orleans and into Southeast Louisiana. For tickets, more information, and to view the full schedule and roster of artists, visit www.birdfootfestival.org
--
St. Patrick's Day Parades & Celebrations
March 11 - April 1 | Greater New Orleans Area
From the Irish Channel to the North Shore, New Orleans and its surrounding areas go green to honor St. Patrick's Day. Expect green beer, bagpipes and plenty of produce. Several local neighborhoods host parades and festivities.
See the 2023 schedule of parades and block parties here.
--
Wednesday at the Square Concert Series
March 16 - May 18 | Lafayette Square
Wednesday at the Square, the free spring concert series in Lafayette Square, returns for its 16th year. The 10-week series takes place every Wednesday from 5 p.m. to 8 p.m. in downtown New Orleans at Lafayette Square (between Camp Street and St. Charles Avenue, directly across from Gallier Hall).
See the full concert series lineup here.
--
Amite Oyster Festival
March 17 - 19 | Downtown Amite
The Amite Oyster Festival returns to celebrate everything oysters with food, live music, carnival rides and arts and crafts.
Visit the website for more information.
--
Sista Strut 2023
March 18 | City Park Festival Grounds
Strut your stuff at this walk to raise awareness of breast cancer among women of color. This breast cancer walk is a celebration among survivors and those ready to strut for a cure.
Visit the website to register.
--
NOLA on Tap Beer Fest
March 18 | Lafreniere Park
After years of being absent, Louisiana's largest beer festival, NOLA on Tap, returns to the festival calendar for 2023. Beer lovers can head to Lafreniere Park for dozens of breweries, homebrewers and food vendors. The music lineup includes Jon Cleary and the Absolute Monster Gentlemen, George Porter Jr. and Runnin' Pardners, Choppa, Marc Stone, John Mooney, The Rumble and Honey Island Swamp Band. Ticket prices vary.
NOLA on Tap is a 21-and-over event. Visit the website for more details.
--
Uptown Super Sunday
March 19 | A.L. Davis Park
Each year, on the Sunday closest to St. Joseph's Day, Mardi Gras Indians come out in their elaborate, full regalia participating in traditional rituals which centers around A.L. Davis Park, at Washington Avenue and LaSalle Street, and throughout Central City.
--
New Orleans Bourbon Festival
March 22 - 25 | Contemporary Arts Center & Hilton New Orleans Riverside
The New Orleans Bourbon Festival returns for the enjoyment of bourbon lovers. Food, spirit and culture converge as the festival brings together distilleries, restaurants speakers and industry professionals. Festivities kick off with a bartender competition at the Southern Food and Beverage Museum and culminate with two grand tastings at the Contemporary Arts Center.
For festival updates and ticket information, visit the website.
--
Tennessee Williams & New Orleans Literary Festival
March 23 - 26 | Various venues
Now in its 37th year, this literary fest, known for its popular "Stella" shouting contest, returns with writing workshops, theatre events, literary panels, literary walking tours, music events, culinary and cocktail events and more.
For the full schedule at ticket information, visit the website.
--
Louisiana Crawfish Festival
March 23 - 26 | Frederick J. Sigur Civic Center
The Louisiana Crawfish Festival returns to St. Bernard Parish for a weekend of festivities at the Frederick J. Sigur Civic Center. Eat crawfish in every way imaginable. Plus, enjoy live music, crafts and rides. Advance tickets are $8 per day online. Two-day tickets are available for $14 and three-day tickets can be purchased for $21.
Visit the website for more information and to purchase tickets.
--
New Orleans Home & Garden Show
March 24 - 26 | Ernest N. Morial Convention Center
This year, the New Orleans Home and Garden Show heads to the Morial Convention Center while work is underway at the Caesars Superdome. Find everything for your home under one roof at this prominent consumer home expo. During the annual expo, hundreds of vendors participate in food and product demonstrations, seminars and workshops. Tickets cost $10 in advance and $15 at the door. Kids ages 12 and under enter for free.
For updates, visit New Orleans Home & Garden Show website.
--
Freret Street Festival
March 25 | Freret Street from Napoleon to Valmont
The Freret Street Fest returns spanning six blocks for food, craft vendors, live music and other activities. The daylong festival features live music performances across three different stages.
For more information, visit the website.
--
Fête Française
March 25 | Magazine and General Pershing Streets
Fête Française, New Orleans' premier French Festival returns to Magazine and General Pershing Streets, with regional bands, bars, food, and games.
Sweet Crude headlines the street festival, along with the Grammy-nominated artists of T'Monde, Young Fellaz Brass Band, and SaxKixAve (Alfred Banks & Albert Allenback). Attendees can expect a sampling of the city's best food, from N7, Elysian Bar, Rimon, St. James Cheese Co., Les Deux Papas, plus a crawfish boil, authentic French crêpes, a whole-roasted pig, and much more. A rosé wine room curated by Bacchanal is a highlight for attendees, in addition to the festival's signature champagne drink "Joie de Vivre."
The festival runs from 11 a.m. to 5 p.m. Admission is free. Visit the website for more details.
--
Treme Creole Gumbo Festival and Congo Square Rhythms Festival
March 25 - 26 | Armstrong Park
You're in for a smoking combo. In 2019, The Tremé Creole Gumbo and Congo Square Rhythms festivals merged to blend two festivals into a one-of-a-kind event. The event celebrates the Tremé neighborhood and New Orleans traditions that spring from the African diaspora and features live music, food and an arts market. Entry is free.
Visit the website for more information.
--
New Orleans Entrepreneur Week
March 27 - April 1 | Various venues
Entrepreneurs, investors, students and professionals congregate in New Orleans for a week of discussions, education and competition all to support growing companies and entrepreneurial success. Enjoy this jam-packed networking summit with citywide events.
Visit the website, noew.org, for complete event details and registration information.
--
New Orleans International Guitar Festival
March 28 - March 31 | Various venues
The Cervantes Fundación Hispanoamericana de Arte (Cervantes Hispanic-American Arts Foundation) hosts the return of the New Orleans International Guitar Festival after a three-year hiatus due to the pandemic. The four-day festival showcases the guitar, which is used in a wide variety of musical genres worldwide. At least a dozen artists from around the world are scheduled to perform throughout the four days of the festival, including Javier Olondo and Geovane Santos.
Venues that will host the festival include the New Orleans Jazz Museum, Tulane University, Loyola University and Rock n Bowl.
--
New Orleans Entrepreneur Week Fest
March 30 - April 1 | Generations Hall & The Broadside
For the first time, New Orleans Entrepreneur Week (NOEW) features its inaugural NOEW Fest a music experience inside NOEW featuring major musical headliners and cultural entrepreneurs. The line-up includes musicians pushing the boundaries of cultural and entrepreneurial innovation, including White Denim, Pell, People Museum, Brass-A-Holics and Water Seed, among others.
Shows take place at Generations Hall on Thursday and Friday evenings and at the Broadside on Saturday afternoon. While the majority of NOEW remains free and open to the public, the purchase of a NOEW Fest Pass or NOEW VIP Pass is required to attend NOEW Fest. The fest pass costs $99, with a VIP option available.
--
Overlook Film Festival
March 30 to April 2 | Prytania Theatre at Canal Place & Prytania Theatre Uptown
The Overlook Film Festival spotlights horror films in America's most haunted city. This year's festival features 50 films, along with extensive offerings including interactive events, live performances, immersive programming, parties and more scary surprises.
The world premiere of the modern vampire tale "Renfield," starring actors Nicholas Hoult and Nicolas Cage, opens the festival. Also among the 2023 lineup highlights, the festival presents a special 30th-anniversary screening of Joe Dante's loving ode to the great B movies, "Matinee," featuring a live Q&A with legendary actor John Goodman and master of horror Joe Dante.
Visit the website for the complete schedule, tickets and passes.
--
Hogs for the Cause
March 31 - April 1 | UNO Lakefront Arena Fairgrounds
Hogs for the Cause, the popular barbecue and music festival, celebrates its 15th-anniversary event at the UNO Lakefront Arena festival grounds on March 31 to April 1.
Headlining the 2023 event are Alabama's electrifying soul powerhouse St. Paul and the Broken Bones and the genre-bending Devon Allman Project featuring JoJo Hermann of Widespread Panic with special guests George Porter, Jr. and Anders Osborne. More than two dozen artists will appear at this year's festival, playing across three stages, alongside nearly 90 barbecue teams serving mouth-watering BBQ and vying for the title of Grand Champion.
See more details about the lineup here. Tickets for the Friday event start at $50 each, Saturday tickets start at $60 each and can be purchased at www.hogsfest.org.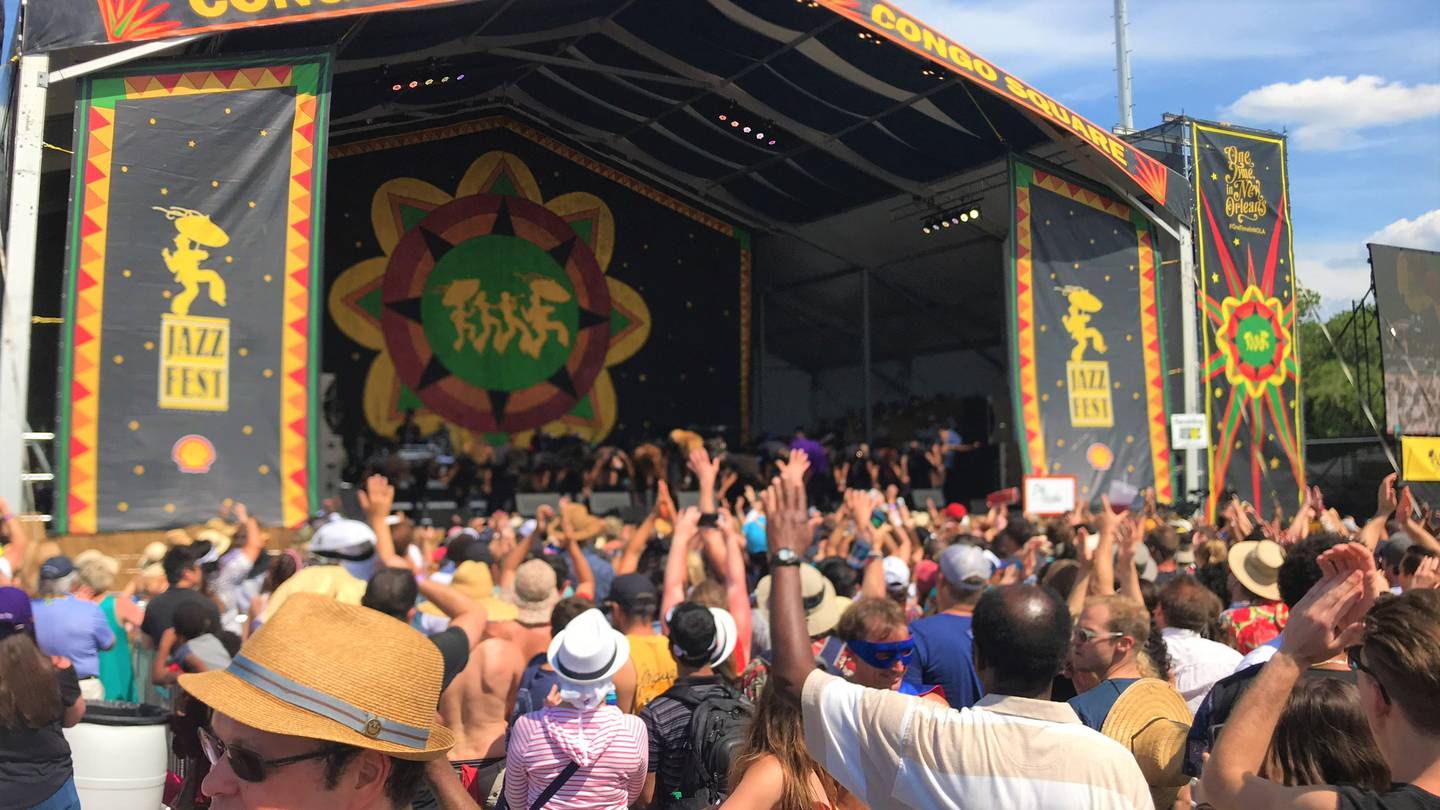 ---
April 2022
Abita Springs Busker Festival
April 2 | Abita Springs Trailhead Museum & Park
A full day of free French Quarter-inspired street music awaits you at the Abita Springs Busker Festival. Hot food vendors will also be available if you need a snack in between sets. Local vendors from the Abita Springs Art & Farmers Market are also part of the mix.
See more details at the website.
--
Crescent City Classic
April 8 | Citywide
Runners and walkers can look forward to one of the region's premier 10k road races. The Easter weekend tradition attracts more than 25,000 participants of all ages and levels, including competitive and amateur racers. A two-day expo precedes the race, and a post-race festival closes out the event at City Park.
Register at the Crescent City Classic website.
--
New Orleans Easter Parades
April 9 | French Quarter
Several parades roll in the French Quarter on Easter Sunday. The lineup begins with the Historic French Quarter Parade at 9:45 a.m., followed by Chris Owens French Quarter Easter Parade at 1 p.m. and the Gay Easter Parade at 4:30 p.m.
--
French Quarter Festival
April 13 - 16 | French Quarter & Woldenberg Park
French Quarter Festival, the largest free festival and showcase of Louisiana music, food, and culture, celebrates its 40th anniversary.
Organizers say more than 50 artists will make their festival debut, including a special featured performance by the Soul Rebels and Big Freedia. This year's event will feature more than 270 performances on 20 stages, more than 60 food vendors and special events that celebrate New Orleans' diverse, unique culture. The festival will operate from 11 a.m. until 8 p.m. each day of the event.
See the full music lineup at the website, frenchquarterfest.org.
--
Ponchatoula Strawberry Festival
April 14 - 16 | Memorial Park Ponchatoula
Head to "Strawberry Paradise" for this free, three-day fest spotlighting the strawberry. Festival-goers can enjoy strawberries served up in almost every way imaginable at this sweet event. This free, family-friendly outdoor festival happens at Memorial Park in downtown Ponchatoula. Weekend festivities also include tons of music, games, rides and strawberry eating contests.
Check the website and Facebook page for updates.
--
Zurich Classic of New Orleans
April 17 - 23 | TPC Louisiana
The Zurich Classic attracts some of the biggest golf pros to New Orleans on this major stop on the annual PGA Championship Tournament Circuit. This family-friendly event tees off at TPC of Louisiana in Avondale, La. Ticket prices start at $40.
Find tickets and more information on the website.
--
Festa Italiana: Kenner Italian Heritage
April 21 - 22 | Rivertown Kenner
Former Kenner police chief Nick Congemi founded this festival to celebrate the rich Italian heritage and customs embedded into the formation of the Kenner area. Live music, food, rides, games and crafts are the festival's main features.
More information to be announced via the festival's website.
--
Bucktown Seafood Festival
April 21 - 23 | St. Louis King of France School
The Bucktown Seafood Festival is free and open to the public and St. Louis King of France School's largest fundraiser. All revenue raised during this event is used for the direct benefit of the students.
More information via the festival's website.
--
Angola Rodeo
April 22 - 23 | Louisiana State Penitentiary
Thousands of visitors flock to the longest-running prison rodeo in the nation. In addition to the various rodeo events, many visitors look forward to the arts and crafts show including the intricate, handmade works from inmates. Tickets are $20.
See more details at the website.
--
Plaquemines Parish Seafood Festival
April 28 - 30 | Plaquemines Parish Government Complex
Head to Plaquemines Parish for a celebration of the parish's unique heritage, and feast on great local seafood while you're at it. The fest also features live music, a 5K race, rides, crafts and the Seafood Queen Pageant.
Visit the website for festival updates.
--
New Orleans Jazz & Heritage Festival
April 28 - 30 & May 4 - 7 | Fair Grounds
Thousands of music lovers head to the Fair Grounds for this two-weekend festival, considered one of the city's most world-renowned events. This year's headlining acts include Dead & Company, Ed Sheeran, Lizzo, Mumford & Sons, The Lumineers, Santana, Leon Bridges and Ludacris. The fest is also known for its popular food vendors like the sought-after Crawfish Monica, Mango Freeze and cochon de lait po-boys.
See the complete daily music lineup here.
--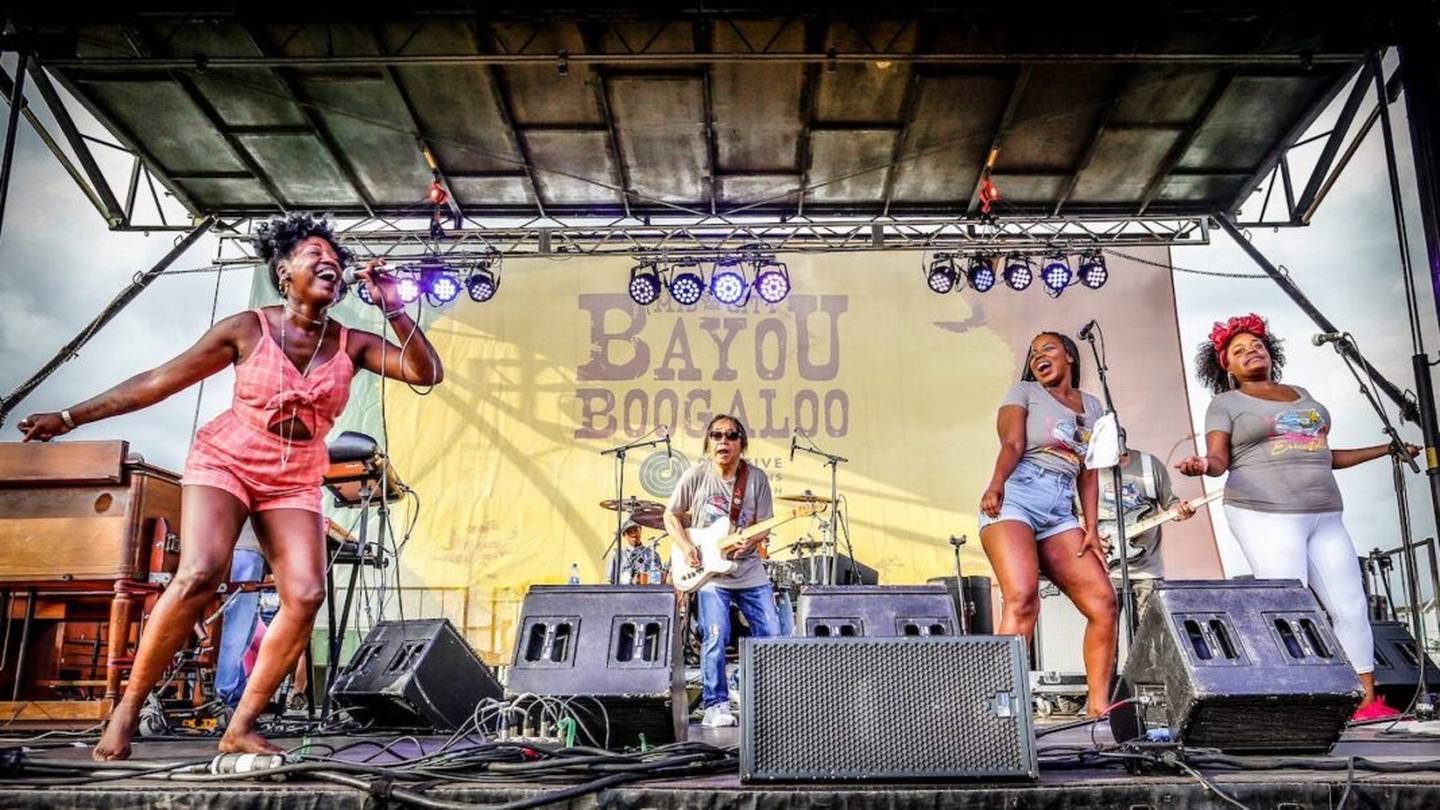 May 2022
NOLA Crawfish Festival
May 1 - 3 | The Broadside
The NOLA Crawfish Festival, an annual fest produced by crawfish connoisseur Chris "Shaggy" Davis, is set to return as a three-day event at the Broadside. Local bands jam while festival-goers gobble pounds of crawfish at the outdoor event.
Find tickets and information for the festival via the website.
--
Mid-City Bayou Boogaloo
May 19 - 21 | Bayou St. John
Rapper and Cash Money Records alum Juvenile will be joined by Partners N Crime and DJ Jubilee to headline Mid-City Bayou Boogaloo, which returns to the banks of Bayou St. John this spring. For the first time, Bayou Boogaloo will also introduce a stage devoted exclusively to comedy programming this year. New Orleans-born comedian Sean Patton will headline the first-ever comedy stage. The fest also boasts a curated arts market, a Kid's tent and crafts area, a VIP Canopy Club, and food from over 20 local vendors, paddling and yoga activites.
Three-day passes are available for $35, and single-day tickets are on sale for $15. See more information about the lineup here.
--
New Orleans Greek Festival
May 26 - 28 | Holy Trinity Greek Orthodox Cathedral
Opa! This annual festival celebrates the Greek heritage in New Orleans over Memorial Day weekend. The festival features a menu of authentic Greek dishes, including baklava, roasted lamb, gyro and moussaka. The cultural immersion also includes dance performances, live music, cathedral tours and cooking demos. Tickets are $10, and children ages 12 and under enter free.
Visit the Greek Fest website for details.
*All dates and information are subject to change.
Contact us if there are any changes in schedule.
Copyright 2023 WVUE. All rights reserved.